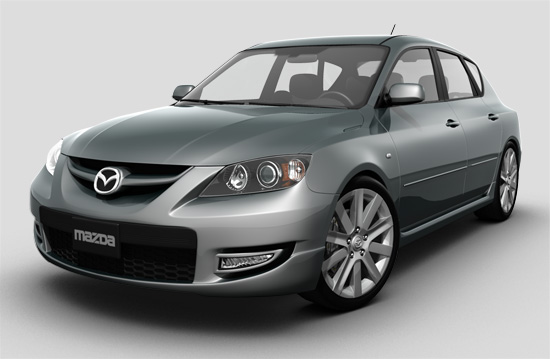 There are cars with lots of hype on the market and then there are cars that are subtle monsters. The MazdaSpeed 3 is a huge monster with a pedestrian price that makes it an absolute steal in these tough economic times.
Okay, let's get something out of the way. The name of the car is the "MazdaSpeed 3", not "Mazda Speed 3". I have no idea why. Perhaps someone missed the space key when titling the project. It doesn't really matter, but people bring the subject up over and over.
If you could describe the perfect car these days, what would it be? You would want some serious performance, but you would want to avoid tickets. You would want something you could haul people and stuff around in, but have a blast while doing it. The MazdaSpeed 3 is all this and more.
The MazdaSpeed 3 looks extremely close to the basic Mazda 3. It is a hatchback without much refinement. You find some minor body work, a slightly lowered profile and larger 18 inch rims. The inside of the car is extremely basic in my opinion. In short, this is a car that really is not going to attract any attention except from those who see the name on the car.
This anonymity is a good thing, particularly as far as your friendly police officers are involved. Why? The MazdaSpeed 3 is basically an engine with seats. What the designers did not spend on the exterior and interior, they put into the performance. The Godzilla design has a 2.3 liter four cylinder engine with a direct-injection turbo. It produces a whopping 263 horsepower at 5,500 rpm and a ton of torque.
Driving around in the car if a fairly hilarious prospect. You can pull up too much more exotic and expensive cars at a light and then just crush them off the line. The only time you'll get any looks is when some kids who know about the car pull up next to you. It is somewhat like driving around in an old station wagon with a Ferrari engine in it. Don't get me wrong. The car doesn't look bad. The looks just don't match the performance at all.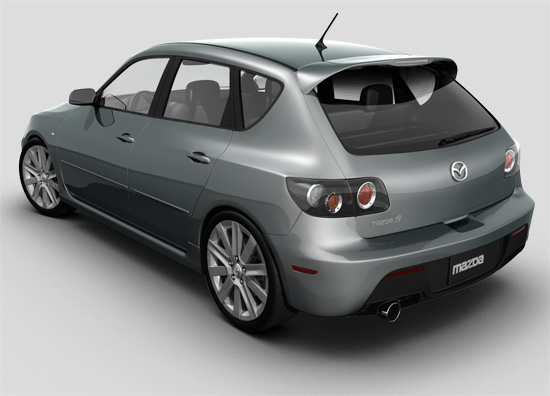 Watching every dollar you spend is pretty much the key to life these days. The MazdaSpeed 3 performs here as well. The cost is a paltry and stunning $21,000 to $22,000 for a car that will crush most cars priced twice as much. Even better, you can write off the sales tax you pay on the purchase thanks to President Obama's stimulus bill.
In these dire times, that is a deal you are going to have a hard time beating.
Dirk Gibson writes articles about cars, auto parts and accessories for DCJAutoParts.com - your online resource for parts.